A Rainbow at Ten Thousand Feet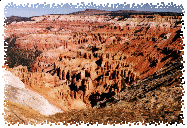 Looking into the Amphitheater
When we got to the visitor's center, the board read "Today's Weather: Unreasonably Warm." For being almost two miles high, that may be a valid assessment, but none the less, it was cold. The wood-stove in the cabin was very welcome!
Because of its great elevation, it's cold quite a lot! Something on the order of 250 days a year dip below freezing. We were lucky to have such warm weather, I suppose. None the less, at 10,350 feet, a clear sky is a deep indigo, which beautifully set off the gentle bands of tan, brown, red, and yellow of the amphitheater.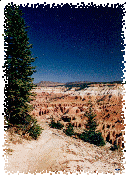 The Trail to Spectra Point
Cedar Breaks has been described as a miniature Bryce Canyon and the analogy is fitting to an extent. It certainly is very vividly colored (it apparently cuts into the same pink Wasatch layer as Bryce does) But it might also be called a Little Grand Canyon, too: the same terracing of geologic layers is visible.
Once it got a little warmer out, we headed down the Ramparts Trail to Spectra Point. The ground was still frosty in places, and a chill wind blew (quite vigorously!) But the view was just wonderful.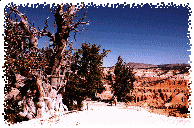 A 1600 Year-Old Bristle-Cone Pine Clings to the Ridge Near Spectra Point
The path led along the lip of the amphitheater; on one side were stands of juniper and pine and great expanses of meadow. On the other, a sudden drop-off into the many canyons below.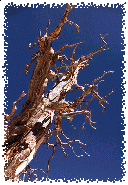 The Ancient Bristle-Cone Pine's Limbs Almost Touch the Sky
The last few hundred yards of the trail took us out along a gypsum-white "peninsula" of rock, the end of which was Spectra Point. Clinging to this ridge was one particularly bristly bristle-cone pine that plainly had seen many years %ndash; sixteen centuries to be exact. That's pretty old in human terms, but I'm told that's nothing to brag about in Bristle-Cone terms (some specimens have been dated at 4,000 years!)
We finally made it out to the point, but was it ever windy! The point is only about fifty feet wide here, and it drops off precipitously (with not so much as a rail around the edge, either.) It was all we could do to keep from being blown over. We took some photos, and then made our way back. Considering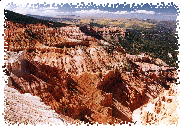 Looking Westward out of the Amphitheater

the elevation, I think we did pretty good time (though we were all puffing a good bit once we made it back up to the visitor's center.)

On the way out, we stopped at Sunset View to take one final set of photos. This vista afforded us a view westward, out of the amphitheater. Yet another take-your-breath-away view. (OK, so maybe it was the elevation! I still think it was a great view!)

Tell a Friend about this page!