A forest of Silver and Gold
On our trip last December, our tight schedule forced us to make the drive from Bryce to Capital Reef during the dark winter night, even though the stretch was depicted on the map as a scenic route.
Back then, all we could make out -- when we could see anything at all -- were the vague forms of pale aspens in the dim wash of our headlights as we skirted the Aquarius Plateau. This time, we were able take our time, observe the changing countryside, and realized just how much we had missed! And it was the perfect time of year for it, too.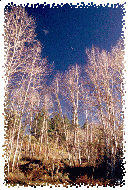 An October Moon above Leafless Aspen
It was because of this relaxed pace that we were able to stop, on a whim, at this particular place. We had watched stand after stand of golden quaking aspen go by, and I (somewhat unilaterally) decided I just had to stop and take one more picture. I had used far more film than I had expected (Bryce will do that to a person) and with no Costco in sight, it wasn't clear when I'd be able to replenish my supply.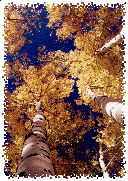 Nearby Aspen still bear their Golden Leaves
Well, as is wont to happen, one shot turned into several. One that I'm particularly pleased with is of a bunch of naked aspen set against an indigo sky, with the moon approaching first quarter.
Then there is my absolute favorite shot, the one that made the whole stop (and the risk of running out of film) worthwhile. A small, dense stand of senior aspen rising into the sky, their leaves not yet plucked away by the cool breeze coming off the high plateau. I stood there, gazing up from where their trunks came together beneath the leaf-strewn ground, watching the gentle flex of chalk-white trunks, and the shimmering gold of leaves against the deepening late-afternoon sky. I almost forgot to press the shutter release.
Well, as much as I would have liked to stay longer, the sun was beginning to set, and we did have to be in Torrey before it got too late.
Thank goodness for Kodak.
Tell a Friend about this page!