Tribal Park in Navajo Country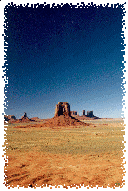 Merrick's Butte and the Mittens from Artists Point
Next to the Grand Canyon, Monument Valley is probably the most recognizable landmark on this trip. Countless westerns have been filmed with these famous buttes and monuments painting the background. In a way, it has become the quintessential (and much stereotyped) icon of the southwest.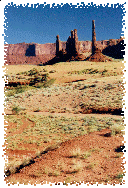 The Totem Pole and Yei Bi Chei
But, of course, they're immensely beautiful. You can get a pretty good look at these monuments by never leaving Highway 163, but to get a much more intimate view of these places (and to see the people that actually live among them) you simply must visit the interior of the park. After you pay your toll and stop at the visitor's center, take the 17-mile circuit down into the valley itself (or hire a jeep to do the rough off-road driving for you.)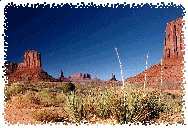 The Monuments of the Valley, as seen from the Valley Floor
I had gotten used to driving the rented Lumina off-road, and was proudly doing about one quarter the speed that the native Navajo tour drivers were doing in their mini-busses and vans. Well, I did have a deposit I had to worry about, after all.
But in spite of the meager progress, we did get to see some very beautiful sites. The austerity of the landscape (and the fact that the Navajo eke a living here with corn and sheep) is humbling. As you drive from vista to vista, you will see women with tables of jewelry for sale; you really can't begrudge them that. If silver is your style, you can get some exquisite necklaces and other adornments for incredible prices.
But of course, the true gems remain the monuments themselves.
Tell a Friend about this page!