The Northern District of Zion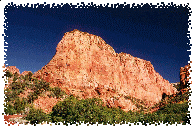 Entering Kolob, You See Paria Point
Compared to Valley of Fire, where we were earlier in the day, the Kolob is much less bizarre and dramatic. But it is a beautiful place, in a sylvan sense. The Kolob is actually a part of Zion National Park, but it enjoys its own, isolated atmosphere -- much different than the rest of the park.
The first thing you notice upon entering Zion is that the roads are red. Presumably the park uses rock fallen from the cliffs to make the pavement. Regardless, it sets the mood for the place (not unlike yellow bricks set the mood for the Land of Oz, I suppose!)
After checking in at the visitor center, we drove up the Kolob Canyons road to the viewpoint at the end of the road. One of the most interesting features along the road here are the finger canyons visible on the opposite side of the valley. These are huge formations that live up to their name: you feel ant-like as you drive by and look across at each finger.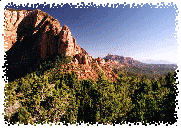 From Kolob Canyons Viewpoint, Looking Down the Valley
Once at the viewpoint, we took the short one-mile trail along the ridge, where we were able to look south-east at the rest of the park. Somewhere, way out there, are the Temple of Sinawava, the Great White Throne, and other well-known landmarks of Zion. Somewhere. All I see is ridge upon ridge of pinyon pine, ponderosa pine, and juniper. Zion is a big place.
Since we only had half a day allotted to the Kolob, we weren't able to take any of the longer hikes (our loss, I'm sure: Double-Arch Alcove, Kolob Arch, and the other sites look to be worthwhile places to visit!) but we did decide to go as far as we could up the Taylor Creek trail (the trail to Double-Arch) before the

Sunset along Taylor Creek

sunlight gave out. This is a pretty trail that follows the creek, and at this time of year, the gold and amber leaves of quaking aspen scintillated in the evening sunlight.

Having had a taste of the Kolob, I'd like to go back some time and explore the places we didn't get to this time. Maybe even hike the La Verkin Creek trail down to the main part of the park. Next time.

This is incredible country. The morning was spent in a desert. We enjoyed a pleasant sunset amidst aspen and cottonwood. We made our way to Cedar City for the night. After that, it's a chilly morning at ten thousand feet.

Tell a Friend about this page!