The Land of Sleeping Rainbows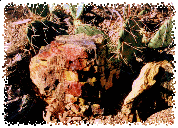 Candy-colored Petrified Wood Sits Amongst the Cactus
Our decision to visit Escalante State Park, often called "Petrified Forest" State Park, was literally a last-second decision. We had seen some petrified wood at Valley of Fire, and except for its geological value, it really wasn't that interesting: dull grayish-brown rocks, roughly cylindrical, looking vaguely tree-like, half submerged in the ground. Even as we drove into this park, I had my reservations. But it was about lunch time, and it was as good a place as any to stop.
And am I glad we did!
There's a trail that climbs a few hundred feet up to a plateau above the campground and picnic area, and it is on this trail that you see these fascinating stones. The first clump of petrified wood, like the stuff in Valley of Fire, was half buried in the sandy soil.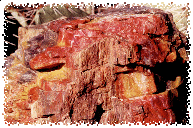 Close-up Detail of the Petrified Wood
But right away, it was noticeably different. While it was cylindrical and vaguely tree-like, it wasn't dull, neither in color nor in luster. Streaks of yellow and ochre mingled with splotches of brownish-red, and bluish black. Our curiosity was piqued, and we enthusiastically headed down the trail looking for the next clump of stone.
We were not disappointed, either. All along the trail, outcroppings of petrified stone either lay shattered upon the ground, or erupted out of the earth. The incredible variety was amazing, too. Some pieces showed wood-like grain and looked as if they were merely time-beaten furniture; only tapping them revealed that they were in fact stone. Others were infused with rich, vibrant colors that rivaled many lesser gemstones.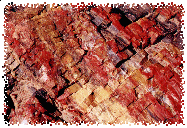 A Large Slab of Petrified Wood Worn Smooth by Time
The trail is a one-mile loop with many interesting specimens, but there's also a 3/4-mile extension that I'd recommend to anybody that comes here. It is steep and rugged trail though, so if you're not up for that kind of thing, stay on the comparatively flat main loop.
But it is down this rugged "Trail of Sleeping Rainbows" that the real treasures can be found. Gem-toned shards, stones, and even huge boulders of blood reds, purplish blacks, egg-yolk yellows, cyan blues, burnt oranges, and pearly whites can be seen along the twisty trail to the bottom of this wash and up the other side. It's very much clear how the native Americans came to call this place the Land of Sleeping Rainbows.
Tell a Friend about this page!